"I've been thinking about [Judi] and our session. Since that day, I cleared a block that I've had for years and it seems like everything is flowing right, or should I say, I'm able to move with the flow of life." – Pamela, Philadelphia, PA
Partnered with: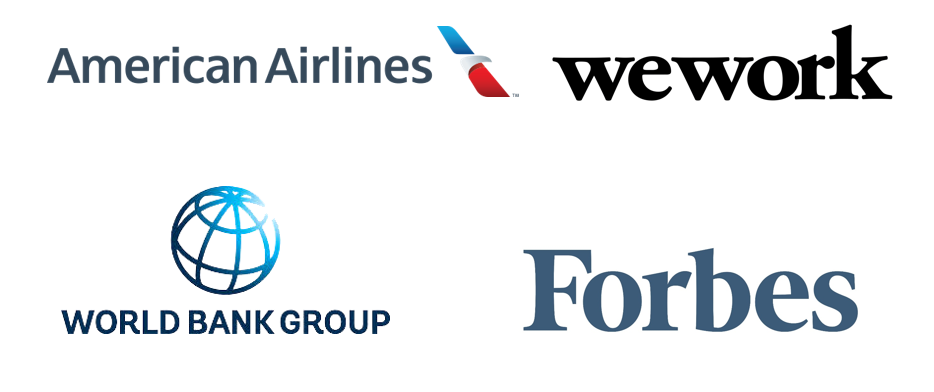 Join our CSO Community for free #Founder Friday calls!
Need business advice, but don't have time for an in-person coaching session?
Call in on #FounderFridays for one hour for FREE!
Get Zen during our group meditation and connect with other Founders.
What does your day-to-day look like?
Putting out fires?
Overwhelmed by too many responsibilities?
Worried about what's next?
Don't know how to get to the next level because all of your organization's success relies on you?
Afraid that you are failing your organization? Overwhelmed by taking care of everyone but yourself? Anxious because you aren't getting the most out of life? Terrified that you're doing the wrong thing and leading to your own ruin?
What if…
…you knew your calling was greater than your current position?
…you had more time for friends and family & it all didn't revolve around your organization?
…you haven't truly manifested the perfect life that you greatly desire?
…you could really step beyond your current role in your organization & actually build a legacy?
You need someone else to help you out, but you can't justify the expense of hiring another full-time employee, especially a strategic thinker with a large network. You need backup for life's surprises. You need coach for feedback and a consultant for sage advice. You need a person who you can rely on and who will be there for you to guide and introduce you to new echelons.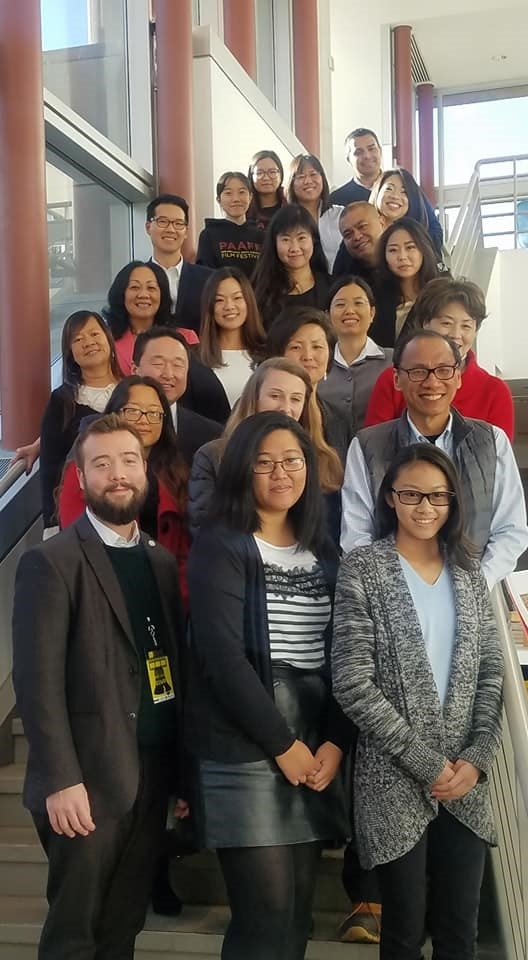 "The Art of War is of vital importance of the state. It is a matter of life or death, a road to either safety or ruin. Hence, it is a subject of inquiry which can be on no account neglected." – Sun Tzu, Art of War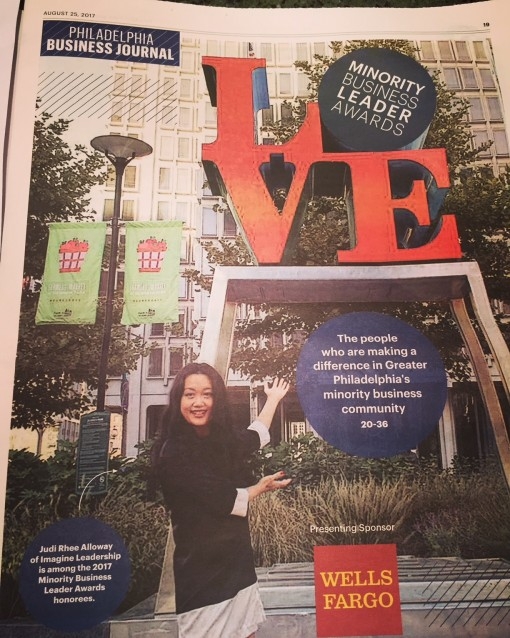 ---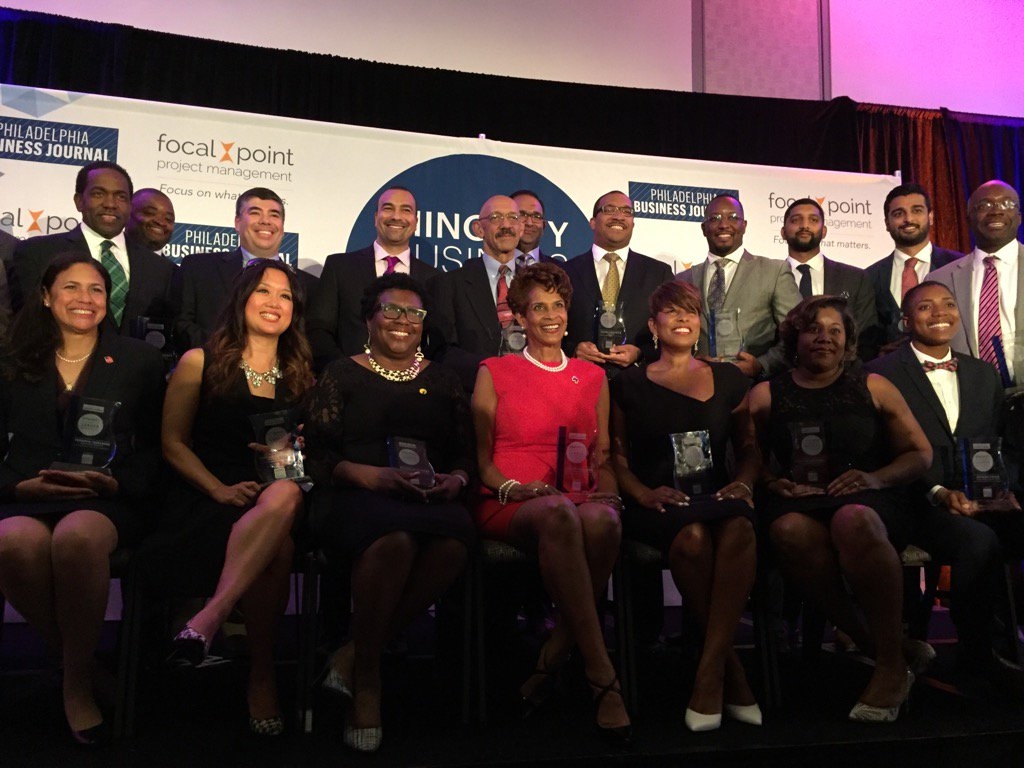 As a Former Director of Women's Business Center funded by the U.S. Small Business Administration, I worked with thousands of clients who desired to start a business or non-profit organization, but lacked the training, connections, and funding to scale an organization. I also worked with executives at existing organizations whose teams were unproductive, operations were chaotic, and sales were dragging.
As I took copious notes and studied Sun Tzu's Art of War, I realized that there is an underlying pattern to leadership, success, and organizations. Working with top CEOs and influential business leaders, we've quantified it as: "The 4/5/10."
No matter if it's a new startup, non-profit, a department, or a corporation, "The 4/5/10" determines if your organization succeeds. Without "The 4/5/10," your organization might have an initial success that isn't sustainable, or dwindles over time.
The 4 Essentials of Healthy Organizations. The 5 Critical Dynamics of Organizational Behavior. The 10 Essentials of Engagement. Email us at info@chiefstratofficer.com for your free Organizational Success Chart to find out where your organization stacks up. On the Left or Right?
People with great ideas often fail due to inefficient processes, ineffective marketing, and lack of capital. It was disappointing to witness the majority of these aspiring entrepreneurs and leaders not get a chance to test out their million-dollar idea. It was sadder to see executives flail at their jobs with lay-offs, restructuring, and buy-outs.
With over 15 years of research, testing curriculum, and experience working in corporations, startups, and non-profit organizations, I created the #CSO Package to give current entrepreneurs and leaders a chance to not only turn around their lives, but also their organizations with the hopes to expand and scale their organization with the least amount of expenses, instead of hiring another employee and providing benefits.
@JudiRheeAlloway: Award Winning Leadership Coach and Business Consultant, Imagine Leadership, LLC @ImagineLeaders; Founder of "The Best Business Center in Philadelphia" @womensbizcoop, and "Top Woman Innovator" by the U.S. Department of Labor.
Get Your Free Organizational Success Chart
What price would you put on a sales or funding increase? Isn't it worth investing in becoming a better leader? Why haven't you considered it important before? How can you implement better systems? Get Instant Access
Chief Strategy Officer Packages
The Chief Strategy Officer Packages are created by one of the top American women innovators by the U.S. Department of Labor and an entrepreneurial curriculum consultant for Thunderbird School of Global Management, #1 Program Quality Executive MBA, The Economist, 2015, #1 "International "Full Time" MBA Business School, and #3 Best Business School – International Speciality, according to U.S. News & World Report, 2017.
"I thought more about what we talked about last week and you were right on so many levels. I fought you on it but it was and still is very hard for me to admit. Sometimes it also hard to see clearly. I have grown and changed so much since starting this company and the past year and a half since working with you. Wow! It is hard to believe I have been doing this that long. In many ways I am excited that I have made it this far." – B., Entrepreneur
It's Beyond Coaching & Consulting
The Chief Strategy Officer Package allows you to alleviate your stress with an experienced professional who will work alongside you.
You'll get your organization operationally ready for the next steps.
From the launch of a new product or service to a strategic sale, you'll be poised and ready for success.
It's that energy of someone who cares about your success and your organization backing you with experience, teaching you new skills, and introducing you to people to help you.
It's Your Own Personalized MBA Program
A Chief Strategy Officer assesses where you are now and can offer multiple plans to get you going. We look at your business inside and out while training you to become a better leader in these functions:
| | |
| --- | --- |
| 1. Branding | 2. Marketing |
| 3. Culture | 4. Operations |
| 5. Model | 6. Funding |
It Doesn't Have To Take $15,000+ To Write One Strategic Plan
We will create a system with goals, strategies and action steps to get you where you are going. Along the way, you'll be coached on the times when you don't reach your goals to help you gain a deeper understanding of what's stopping you. Have peace of mind knowing that you are getting the most of your organization and life.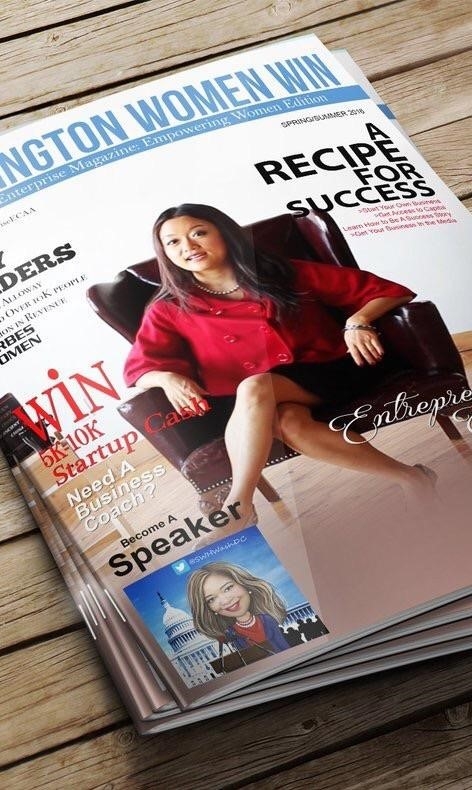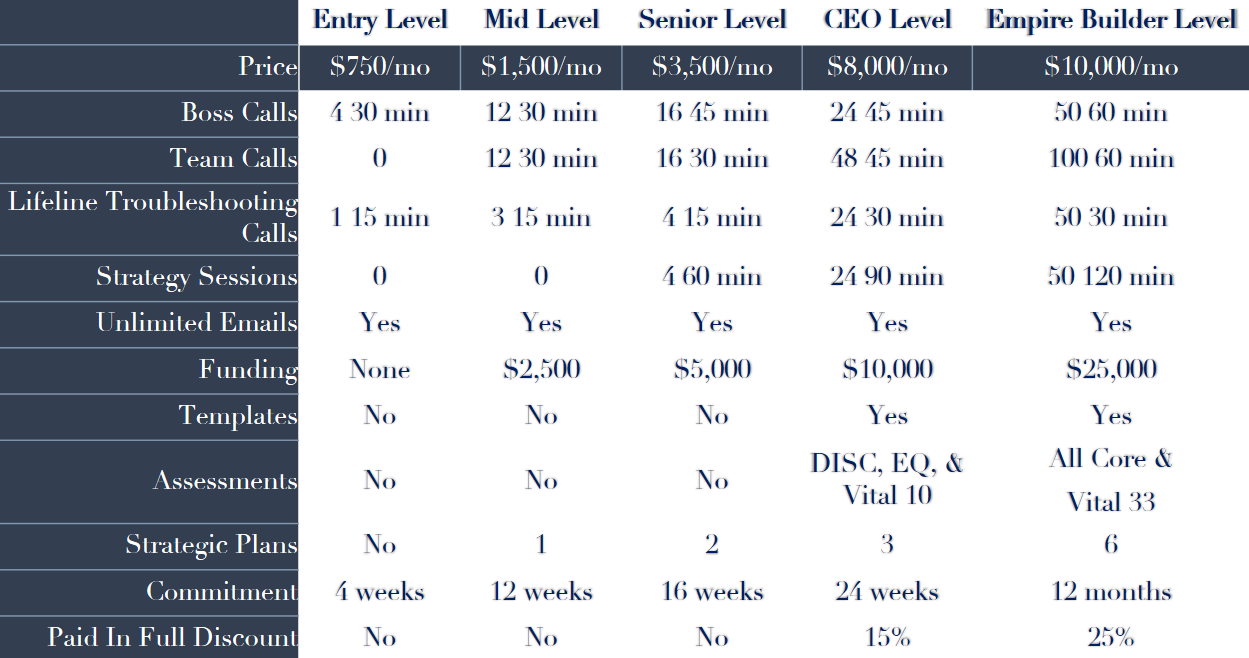 Chief Strategy Officer Packages: Strategic Planning Made Easy saves over $328,480!
Have fun while getting stuff done in our Strategy Sessions and Group Coaching Exercises.
Don't silo. Stay connected through Boss, Team, and Lifeline Calls.
Keep it simple with our All in One Packages: month-to-month, 3 months, 4 months, 6 months, or 12 months.
How valuable would it be to have someone to really help you and truly support you?
What can ease your stress?
Who can else can be on board?
When will you really take the time for yourself?
Why is this so important?
How would it ease your stress to know that someone has your back?
"I am in a place where my business is shifting. I have been listening to my heart and to a feeling that I need to re-articulate my business. I need to bounce back all my ideas — what I have done, and what keeps showing up. I feel it is time to pull together a clear and concise version of what I offer. I am looking to bounce and massage these ideas to give form to a new path. I not looking to create a business plan or marketing plan yet. I need to get clarity and focus.
I thought of you because of your marketing experience and your world view. It seems that when I talk to other peeps, they all have a particular personal way they think I should go. All good intentions but one-sided. I know you are super busy and if you don't have the time, I totally understand. If you are interested, let me know your availability and your consultation fee, and we can take it from there."
– D. Author, PA
"What we've been doing isn't in line with the company's strategy—and we need to fix that." – Harvard Business Review
When a client hires us to help transform their organization, we usually work on the phone and online. Depending on our level of engagement, we may even go onsite to visit and discover even more. Regardless, we normally recognize a combination of four aspects that can cause organizational dysfunction:
"She who will win whose army is animated by the same spirit throughout its ranks." – Sun Tzu, Art of War
When leaders trust us to help them, it doesn't matter the legal organization: small business, large corporation, government agency, or non-profit. We have learned that what really derails organizational success is – unclear focus or lack of purpose. If you asked 10 people from various levels, you'd get 10 different answers. Can you imagine how that affects an organization?
"The general that wins make many calculations in her temple before the battle is fought. The general who loses makes but few calculations beforehand." – Sun Tzu, Art of War
Next is that systems and processes aren't aligned – or they're misaligned to the overall objectives. What ends up happening is – as you know – bureaucracy, silo mentality, turf wars, and a lack of interdepartmental cooperation. What is lost is value: not valuing your colleague, team member, department, customer, stakeholder, or funder. Can you visualize how that sabotages your organizational growth?
"Regard your soldiers as your children and they will follow you into the deepest valleys; look on them as your beloved daughters, and they will follow you even unto death." – Sun Tzu, Art of War
After systems and process , we see, hear, and experience untapped potential or underutilized talent. People aren't empowered to be their best selves. They become bored and disengaged which results in a lack of productivity and involvement. Can you continue with this constant turnover, losing your best people?
"She will win if she knows both superior and inferior forces." – Sun Tzu, Art of War
Trust or no trust? What if there's no clarity or vulnerability? That means it's not OK to say, "I don't understand how to do this" or "I need help". Can you be your authentic self without being embarrassed, bulldozed, or scared of retribution?   When all cylinders are on the line: mission, tactics, talent, and trust, you are invincible. Your team is high-giving, accountable, transparent, and enthusiastic. They are excited, delivering beyond expectations! Your organization becomes one of the best like Google and Southwest. And that's what you deserve after putting so much blood, sweat, and tears into your organization. You might be wondering, "What are these companies doing differently?" That's where Judi and the Imagine Team come in!
Ever wonder if coaching is right for you?
"92% of senior leaders believe that organizational design and development is important or very important." – Deloitte
But what is Organizational Design and Development?
Organizational Design and Development is a process of innovative strategies, methodologies, and tactics to fulfill your organizational mission. Team Design and Development is a process of creating diverse, creative, and productive teams. Strategic Planning and Development is a process to get everyone on the same page.
We'll teach you and your team to transform your organization. Through our three decades of research and experience, we've identified 20 leadership skills and 10 Essential Qualities that all top leaders embody. Through our rigorous methodology and ancient philosophy based on Sun Tzu's Art of War, we'll help you maximize and optimize every level to give your organization perfect 20/20 vision through the following:
Assessments: individual to see where you can improve your leadership, team to discover why they aren't engaged and organizational to understand why your organization is underperforming.
Facilitation: whether it's SWOC, SIOP, or a Strategic Plan, we are an objective 3rd party to get the heart of what's stopping your organizational success.
Coaching: individual, team, and group coaching to get everyone singing off the same song sheet.
Training: to bridge the gap in everyone's leadership skills.
Let's face it, you've done an excellent job getting your organization where it is now. Sometimes it's easier to bring in a professional than continue to get stuck in the salt marshes of your organization.
As Sun Tzu said: "In crossing salt-marshes, your sole concern should be to get over them quickly, without any delay."
It's easier to have someone pull you out instead of trudging along day by day. For the health and future of your organization, we at Imagine Leadership LLC are happy to help create seismic shifts in your organization with often doubling to tripling revenue as a common result. We offer a world class experience to improve your organizational design and development through our 3 decades of leadership research, facilitation, retreats, coaching, and training based on Sun Tzu's Art of War.
Email us at info@chiefstratofficer.com for your free Organizational Success Chart to see where your organization stands: dysfunctional, ordinary, or extraordinary?
95% of leaders who were coached made positive behavioral changes
80% of coaching clients report positive change in work performance, communication skills, interpersonal skills, and relationships
93% believe that coaching should be available to all employees
Combining coaching with standard training increases productivity 88%
Deeply Trusted by the CEO
CSOs are often given carte blanche to tackle companywide challenges and seize new business opportunities, so there must be a strong bond of trust between the strategy chief and the CEO. A long professional and personal history between them isn't absolutely necessary—but it helps.
A Jack of All Trades
Less than one-fifth of our survey respondents spent the bulk of their careers (pre-CSO) on strategic planning. Most reported significant line-management and functional experience in disparate areas, including technology management, marketing, and operations.
The Guardian of Horizon Two
Senior teams generally have a good handle on short- and long-term issues. The medium term, that period from one to four years out, can fall through the cracks, however. CSOs must be able to refocus the organization's attention on horizon two, the critical period for strategy execution.
Comfortable with Ambiguity
All executives today must exhibit this trait, but it's especially true for CSOs, whose actions typically won't pay off for years. The role tends to evolve rapidly, as circumstances dictate, requiring an extraordinary ability to embrace an uncertain future.
A Master of Multitasking
Our survey revealed that CSOs are responsible for upward of ten major business functions and activities, as diverse and demanding as M&A, competitive analysis and market research, and long-range planning. CSOs therefore must be capable of switching between environments and activities without losing speed.
A Star Player
Most CSOs can point to impressive business results earlier in their careers. They usually view the strategy role as a launching pad, not a landing pad.
An Influencer, Not a Dictator
Strategy chiefs don't usually accomplish their goals by pulling rank. They sway others with their deep industry knowledge, their connections throughout the organization, and their ability to communicate effectively at all levels of the company.
Objective
Given their wide remit, CSOs have to be perceived as objective. An openly partisan CSO, or one who lets emotions or the strength of others' personalities cloud his or her vision, is sure to fail.
Paying a Chief Strategy Officer is approximately $234,000, not including benefits. The average cost for a company to hire a full-time Chief Strategy Officer is about $292,500 per year.
Paying a contract CSO less than $40,000 for 6 months minus benefits is a reasonable alternative to hiring a full-time executive level W-2 employee. After hiring a CSO, new systems are put into place to then hire a lower cost employee to maintain.
How valuable would it be to have someone to help you every step of the way for the next month, 3 months, 4 months, 6 months or the entire 12 months?
As we already know, not everyone will sign up, not everyone has the money to afford a CSO package, and not everyone wants to get out of her or his own rat maze.
Some people actually like her or his own squeaky hamster wheel, it's too scary to change. Even though, they know it's not working. Your comfort zone at least feels familiar.
You don't know, what you would do with your time and money without tending to your organization?
What would you do, if money just came to you without much effort?
I am not into depleting your cash flow; I am here to better manage your cash flow. I only want to work with people who understand the value of investing in their lives and in their business.
Therefore I only work with up to a limited number of clients at a time who can pay the monthly retainer in advance of services. Also my clients set their own agenda and are responsible for their own success.
Chief Strategy Officer Package
YES, I am in and hiring Judi Rhee Alloway and the Imagine Team at Imagine Leadership, LLC, to become my company's Chief Strategy Officer! I am ready to be coached, consulted and mentored for my business to benefit from her research, her experience, her advice, and her network.
I know that the Chief Strategy Officer Package payment is investment, a monthly retainer, and that a payment plan is possible. I've reviewed the month to month, 3 month, 4 month, 6 month, 12 month, and paid in full options on the Chief Strategy Officer application.
After thoroughly reviewing, I will fill out and submit the application in the next 48 hours. After it is received, Judi and the Imagine Leadership, LLC team will discuss and contact me in 2 business days. My credit card is charged per the agreed month to month, 3 month, 4 month, 6 month, 12 month or paid in full terms.
What's stopping you from investing in your success?